Demolition waste mainly refers to waste materials or waste generated during the process of house improvement, including concrete, mud, bricks and tiles, ceramics, stones, gypsum, aerated bricks, metals, wood, glass, and plastic. At present, the general process for disposal of demolition waste on the market mainly involves converting inorganic matter from it into machine-made sand and recycled aggregates. However, they have not made rational use of the light materials in it and only directly send them to the power plant for incineration.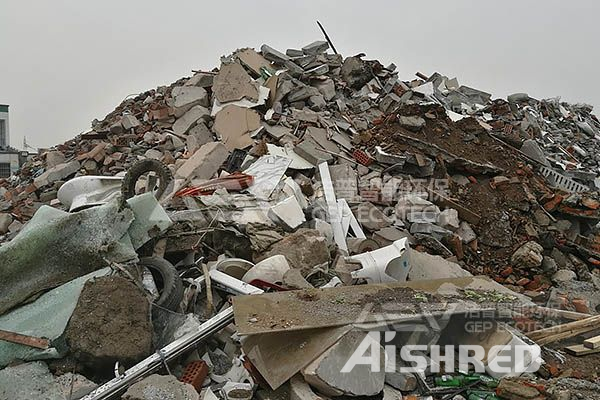 So, how can the light materials in demolition waste be reasonably recycled as resources? AISHRED has launched a production line for using demolition waste as RDF to solve this problem. Firstly, the sorted light materials are sent to a double-shaft shredder for preliminary shredding (shredding size around 150mm-300mm). The shredded materials are uniformly recycled by magnetic separator, and the remaining materials are fed into a trommel screen. The impurities such as slags and stones are screened by the trommel screen, and the remaining materials are fed into a single-shaft fine shredder. By using a single-shaft fine shredder, the demolition waste is secondary shredded to a size below 100mm, and then enters the RDF forming machine to form RDF, with high calorific value.
By using the customized demolition waste light materials from AISHRED as the RDF production line, the light materials in the demolition waste can be made into high-quality, high calorific value alternative fuels, fully solving the problem of resource waste and contributing to the construction of "waste free cities". Should you need to make an inquiry in this area, please feel free to contact us at any time.