The GD Series are high performance twin shaft shredders that are excellent for both dry and wet applications. They are produced in a variety of sizes and can be used to reduce the size of solid waste, reduce particles to improve the efficiency of manufacturing processes, and recycle expired or damaged goods.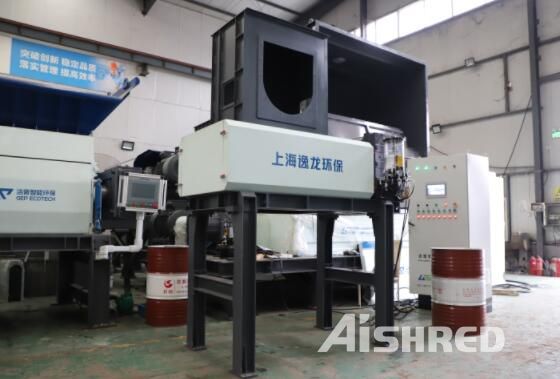 GD2 shredder is a compact shredder used for shredding hard substances. It's ideal for working in tight spaces while still providing the power you need to grind food scraps, small bones and even silverware. GD2 shredder is the ideal low cost solution for meat and animal processing plants, food processing plants, hotels/casinos/restaurants, ships and more.
The GD3 shredder easily handles tough, difficult-to-process items, including metal chips, seafood and food processing waste, and more.
The GD6 and its elder brothers are designed for the most demanding applications. Reinforced shafts and seals allow you to grind solid objects to the required size. They have been tested in a variety of industrial applications, including: recycling, preparing organic waste for energy production, hazardous waste disposal, seafood processing, and destruction of defective and counterfeit products.
Features and Advantages
Low speed and high torque allow you to grind stones, wood, rags, plastic, bones and other objects.
Capable of grinding a wider range of solids than single shaft machines.
Requires less maintenance than other machines.
Compact and efficient design
Special loading hoppers and stainless steel stands make it easy to install the equipment in the production line.
Hardened steel cutters
Automated management and control
Automatic overload detection and drive reversal prevent blocking and increase shredder performance.
Application
Food production, including processing of fish and meat, and disposal of food waste.
On ships to comply with MARPOL requirements regarding the disposal of food waste.
At urban infrastructure facilities such as hotels, resorts, restaurants.
Preparation of food waste for processing into energy or gas.
Destruction of defective products.