Many processes of co-processing municipal solid waste in cement kilns mostly adopt the method of shredding the waste and then incinerating it in the kiln. Since the municipal solid waste is mixed waste, in order not to affect the cement clinker calcination process and product quality, improve the acceptance ability and control ability of the cement kiln system, shredder machine must be set up. So what kind of shredder is used for pre-processing and co-processing MSW in the cement industry? Today, I recommend a GD series MSW shredder for your reference.
GD series double-shaft shearing MSW shredders use the principle of mutual shearing and tearing between two relatively rotating knives to shred materials. Adopt "double motor + double planetary reducer", with strong power and high running stability. It is often used in environmental protection fields such as municipal solid waste disposal, resource regeneration, and waste incineration pretreatment. The equipment has the characteristics of low speed, large torque, large shearing force, good shredding effect, low noise and good stability.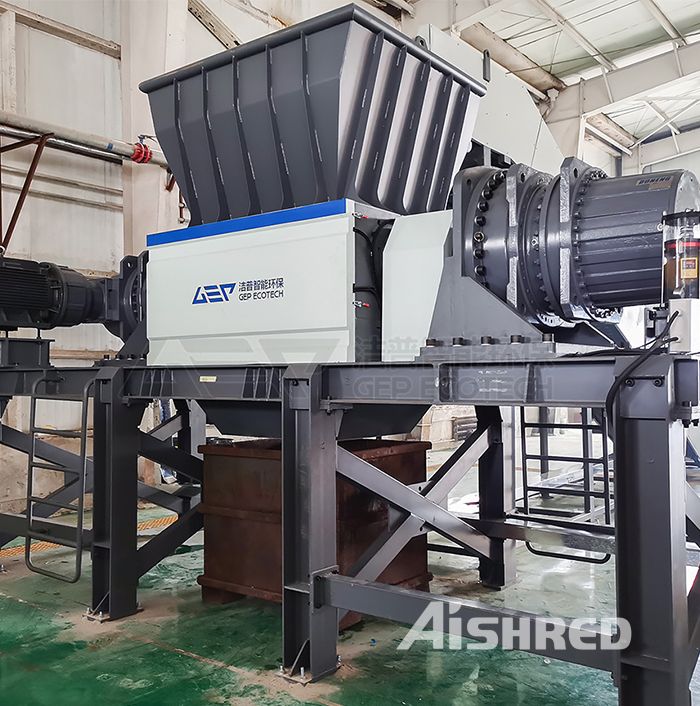 GD series municipal solid waste shredder design advantages:
Materials can be directly put into large-capacity, special-shaped hoppers.
The hydraulic pusher pushes the material towards the rotor.
The moving knife rips the material, and cooperates with the fixed knife to further shred the material.
The technology of co-processing municipal solid waste in cement kilns is now becoming more and more mature, and many companies have achieved success in such projects. With the growth of the population and the continuous development of the economy, the disposal of municipal solid waste has increasingly become a major problem for municipalities. The emergence of the technology of co-processing domestic waste in cement kiln provides a direction for successfully solving the problem of municipal solid waste.
GEP ECOTECH has focused on the disposal of municipal solid waste for many years, and has mature MSW disposal schemes and shredder machine. It is believed that with our joint efforts, the problem of municipal solid waste treatment that has plagued us for many years will be solved!