The GDT series tire shredder is a unique tire crushing machine designed specifically for recycling tires from trucks, agricultural and special equipment, aircraft and car wheels. The shredder has a built-in grate that allows you to calibrate the output material (rubber chips) by size.
Distinctive features of the tire shredding machine from GEP ECOTECH are compactness, power, as well as an integrated unloading system with the ability to adjust the size of the outgoing fraction using grates.
Productivity Capacity - up to 30 tons per hour.
The Tire Shredder GDT series can use a hydraulic drive. Such a drive is necessary for tearing a metal cord (metal cord), which is made from a very elastic and hard metal.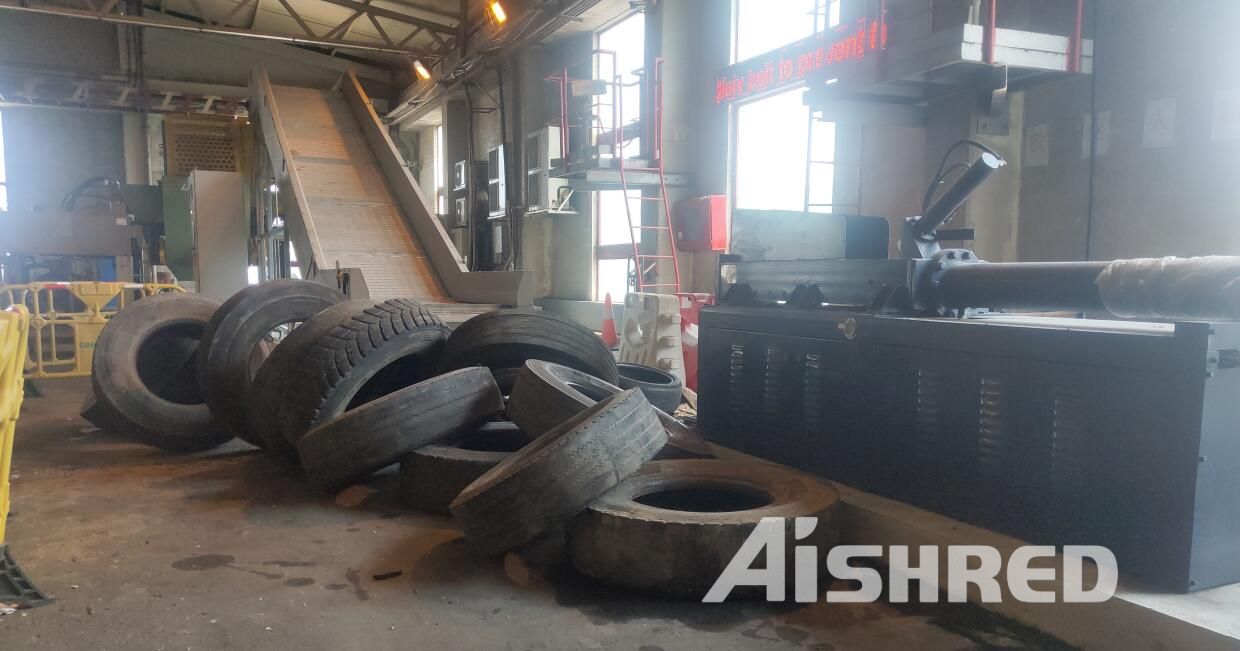 LOW MAINTENANCE COSTS
GEP ECOTECH has developed a new tire shredder concept with a double rotor and low maintenance costs. The cutting blades are made of high quality wear resistant steel. The design of the rotor and blades allows very fast replacement during maintenance. The cost of knives is quite low due to very simple geometric shapes.
The inner surfaces of the tire shredder, which are subject to heavy wear, are protected by armored wear plates made of special anti-abrasive steel. The rest of the galling areas can be repaired with standard hardfacing (62 Rockwell).
The GDI shredder is suitable for shredding tires of automobile, truck and construction vehicles, as well as for any large parts such as car bumpers, domestic and industrial waste, household waste, etc.
The tire shredder is used as a primary shredder in the line for processing tires into crumbs and allows you to load tires from cars and trucks, as well as agricultural machinery with a diameter of up to 2.2 meters without prior preparation. The primary shredder is most often installed in an open area, regardless of the main line. We recommend installing a rotary conveyor between the primary shredder and the main line. This allows the primary tire shredder to operate in two modes: for constant loading of the line or for the preparation and storage of pre-shredded material.
SHREDDER APPLICATION FOR ALTERNATIVE FUEL PRODUCTION
Shredder GDI series can be used to produce alternative fuel for cement plants. To do this, car tires or solid fraction from solid waste, as well as some types of industrial waste, such as wood, paper, polymers, are loaded into the shredder.
The tire shredder is loaded directly with a crane or a conveyor belt. The machine is equipped with a grate under the rotor, which can be easily changed (about 1 hour) and which determines the output size of the material. The unloading belt conveyor allows you to store the material on the ground or in a special container.
The size of the fraction at the outlet directly depends on the type of grate, which is fixed under the shredder, and this choice depends on the requirements of the customer. Most often, gratings with a cell size of 50 to 150 mm are used.