When it comes to building machines for waste disposal and recycling companies, landfill, waste to engery, biomass, RDF/TDF and biogas as well as composting plants have come to the right place at GEP ECOTECH - top 5 industrial shredder machine manufacturers in China.
With its powerful, versatile and extremely durable shredding machines, the company supports its customers reliably and individually. The performance spectrum of the GEP ECOTECH includes 1, 2 and 4-shaft shredders, crushers, granulators, screening equipment and more in different sizes, performance levels and equipment.
At first, GEP ECOTECH mainly designed and manufactured 2-shaft shredders. Gradually, other machines were developed. The 4-shaft shredders were recently developed and included in the portfolio. "With these four machine types, we are able to reliably shred almost any desired material," reports Fuzhong Wang, owner of GEP ECOTECH.
New Tire Shredding Plant in Macao
For example, a large plant for shredding old tires was put into operation last year. The heart of the system is a GEP ECOTECH GD918 double shaft shear shredder, which powerfully shreds the tires. Pieces larger than 100 millimeters are separated using a special sieve and fed back to the shredder. Pieces smaller than 100 millimeters immediately leave the plant as end products. "Here we delivered a complete system consisting of our shredder as well as the screening and conveyor system," reports Anna, Managing Director at GEP ECOTECH. "We were particularly pleased about this order, because this shear shredder is the second machine that we were allowed to build for this customer."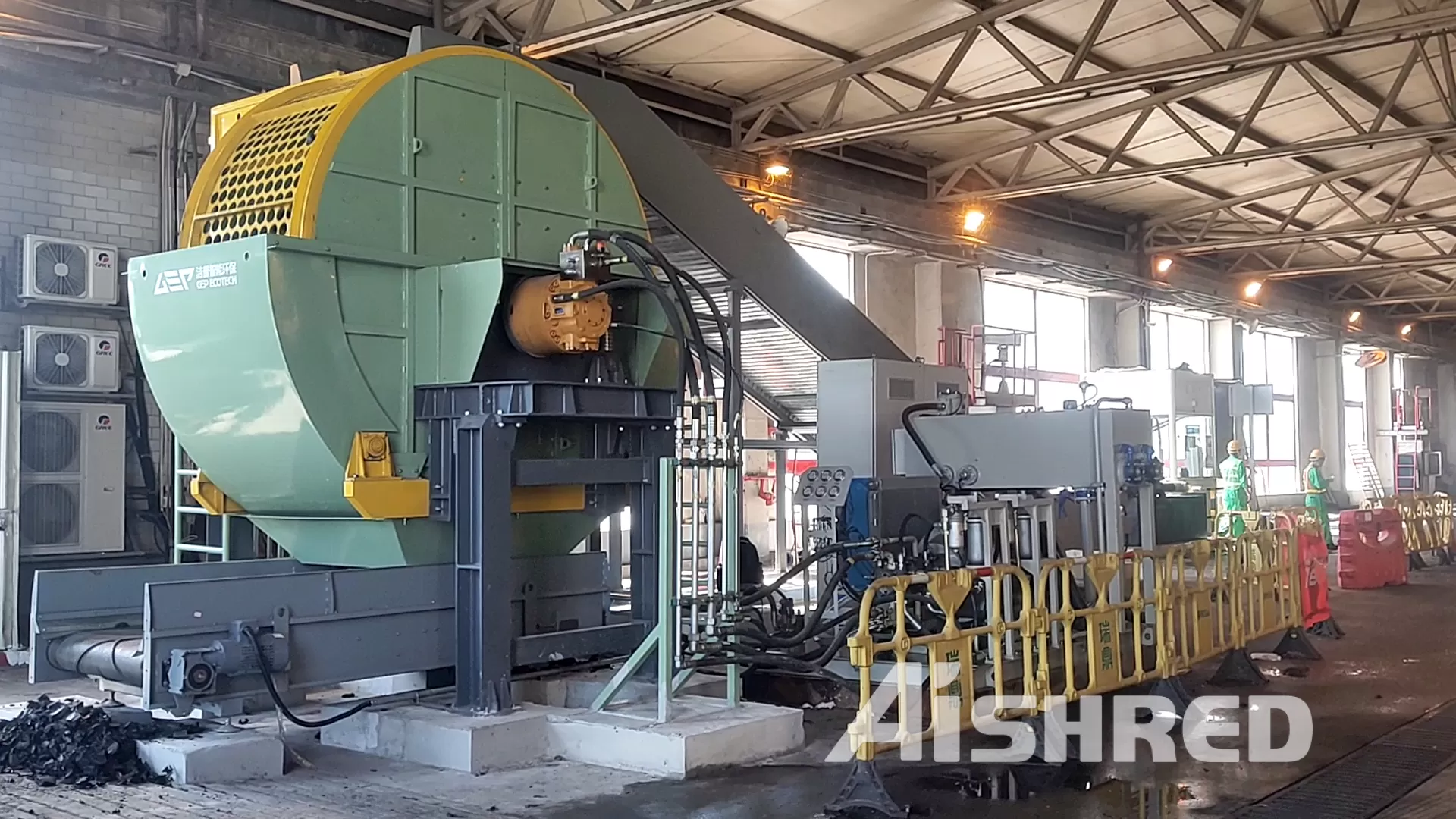 GEP ECOTECH Industrial Shredder Machine Ranges
Twin-shaft shredders that are primarily used for pre-shredding different materials and cutting them into long strips. Depending on the size, they shred everything from kitchen waste, bones, wet waste and light hospital waste to tyres, bales, commercial and bulky waste and steel drums.
Single-shaft shredders that are mainly used for post-shredding or granulating the pre-shredded input material such as tyres, electronic waste, aluminium, plaited plastic and plastic as well as DSD.
Four-shaft shredders shred the material to a defined grain size using Four-shaft shredder with offset knives. Areas of application are e.g. B. the shredding of hard drives, electronic scrap and data carriers, plastic containers, tin containers, production waste as well as files and paper waste.

From waste pre-shredding to post-shredding, GEP ECOTECH offers shredding machines for (almost) all materials, volumes and sizes. GEP ECOTECH has specialized in designing and building shredding machines according to the individual requirements and needs of their customers. "Our customers always get exactly the machine they need for their area of application," reports Ethan. "Advice and individual solutions are particularly important to us and distinguish us!"
Depending on the material to be shredded, the available machine types are selected in their different sizes and configurations and configured as required. The company also offers special machines and systems, shredders with special dimensions and other special features. For example, GEP ECOTECH was commissioned to supply pre- and post-shredding for a metal recycling plant in Mexico. For this purpose, the pre-shredder GD12 were adapted to the input material and the conditions on site and, among other things, were equipped with an oversized funnel that allows the machine to be filled directly with the wheel loader.
Service is very important: wearing parts, hardfacing and replacement of the blade shafts
An important offer of the GEP ECOTECH is their service. "It is particularly important to us to help our customers quickly and with high quality when it comes to replacing wearing parts and reconditioning knives," reports James. Therefore, all machines are deliberately designed to be easy to maintain, wearing parts can be dismantled and replaced quickly. In addition, the company has all the important standard wearing parts in stock and can deliver them within a very short time.
Another special feature: The machines in the heavy series are equipped with a quick-change system for knife shafts, which enables customers to completely change the knife shafts and replace them directly on site. "That's why many of our customers have a second set of cutter blocks," explains James. "They replace the worn blade shafts and send them to us for an overhaul. As a result, they have very short downtimes and can start up the machine again quickly."
If you are interested in our machines and solutions, please do not hesitate to contact us. A dedicated business manager will be available to contact you and tailor-make a solution for you based on your material and disposal needs.