Today, the processing of construction waste is becoming a encouraged industry. This not only reduces damage to the environment, but also creates considerable economic profits. Secondary crushed stone from concrete of demolished buildings turns out to be much cheaper than natural, since the energy consumption for its production is 8 times less.
Currently, in a number of large cities of the world, obsolete reinforced concrete structures are being demolished. At the enterprises producing reinforced concrete products, a large number of substandard products have also accumulated during their work. This is the raw material for obtaining secondary crushed stone.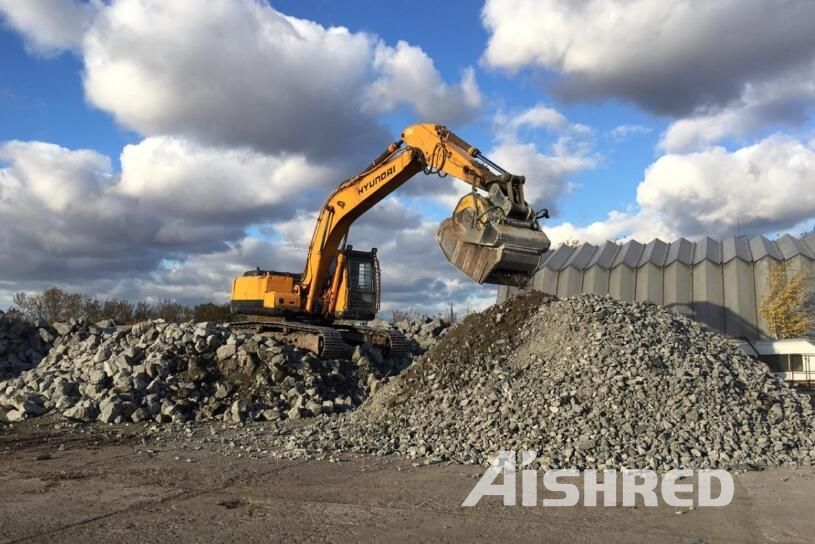 Many companies have recognized the huge potential value of this, and have gradually accumulated technologies to process these wastes in large quantities and generate secondary crushed stone. They began to set up mobile or stationary construction and demolition waste disposal plants, expanding their business scope to the surrounding area.
Real Case
Zhong Yuan Jian Gong is one of the leaders in the Zhengzhou market in the field of demolition of structures, buildings and processing of demolition products. Since 2017, at the first stage of crushing, he has been using jaw crusher manufactured by GEP ECOTECH, and at the second stage - a second hand cone crusher of metso. On this site, the company performs deep processing of waste and produce aggreagte and sand.
According to the technical director of the company, the products are in great demand, they are planning an expansion of the site to expand production capacity.
Technical Analysis
The technology with two-stage crushing is used by several enterprises. Thus, the Zhong Yuan Jian Gong uses for the processing of construction waste a coarse JAW CRUSHER with a capacity of up to 135 t/h at full load, a medium CONE CRUSHER, vibrating and lamellar feeders, a sorting unit with a three-tier screen, metal separator, conveyors for moving the processing material.
When setup a construction waste recycling plant, several factors should be considered:
Soil content and waste size - this affects the size of crushers and whether a grate screen needs to be installed on the feeder.
Final product size and grading determine the choice for crushing stages and the number of screens. On this section of the production line, it is possible to use jaw, rotary or cone crusher.
If the waste contains waste that cannot be processed by the crusher (such as plastic, wood, etc.), a separation device needs to be installed
dust separator is an optional equipment.
Mobile crushing plant can be used in cramped conditions, combining such operations as loading, crushing, sorting, metal separation, requiring a small area and meeting the requirements of mobility.
GEP ECOTECH has developed equipment for crushing, sorting almost all types of construction waste (concrete, reinforced concrete, brick with a capacity of 30 to 200 cubic meters per hour). Equipment kits include mobile units that do not require foundations, which significantly reduces installation costs and speeds up their commissioning.