Municipal solid waste (MSW) is household, commercial, and / or institutional solid waste. They consist of everyday items such as paper, grass clippings, plastic bags, furniture, clothing, bottles, rubber, metals, food waste, paints and batteries. They are not only of domestic origin, but also commercial (offices, retail and wholesale, restaurants), institutional (libraries, schools, hospitals, prisons) and industrial (packaging and administration). Most of them are classified as not dangerous.
As part of their solid waste management plan, almost all countries are promoting source reduction, recycling and composting to reduce landfill disposal. Several countries have also adopted specific measures for the disposal of certain materials: leaves, grass clippings, yard waste, office waste and computer paper, newsprint, cardboard and corrugated cardboard, glass, plastic, aluminum and steel containers are prohibited in disposal plants.
Many plants burn municipal solid waste at high temperatures not only to reduce the volume of waste, but also to generate electricity. While not the greenest strategy for MSW, but it is currently the most economical and environmentally friendly treatment method.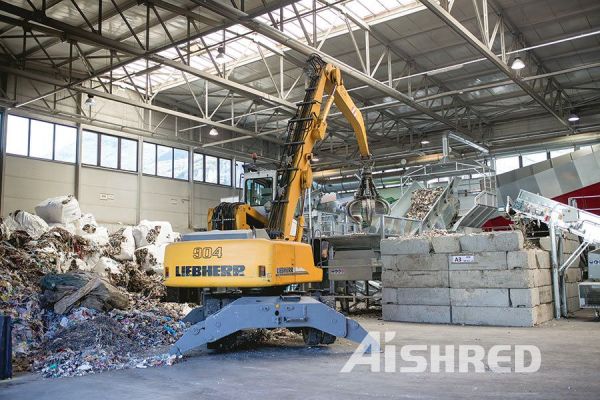 GEP ECOTECH Waste Shredder for Processing of Municipal Solid Waste
Shredding is one of the most important steps in municipal solid waste disposal. GEP ECOTECH shredders can be used for shredding municipal solid waste for various applications, and can shred solid waste to the ideal size for subsequent processing. GEP ECOTECH's industrial shredders can work individually or in concert for optimal disposal results.
Pre-Shredder
Pre-shredder is a high-torque waste pretreatment equipment, used in the first stage of the waste treatment process, suitable for pre-shredding municipal solid waste (MSW), bulky waste, C&D waste, etc. The shredder uses the principle of shearing and tearing to realize shredding, which can shred extremely coarse materials forcefully and prevent the accumulation of raw materials.
Double-Shaft Shredder
The Double-Shaft Shredder is a widely used industrial shredder with low speed, high torque and high throughput, designed to efficiently process a wide range of materials. It can be equipped with different components or work with other stages of shredders depending on the material and final size, reducing the material to the required size.
Single-Shaft Shredder
The Single Shaft Shredder utilizes cutters mounted on the rotor to shred materials through rotation, offering material adaptability, high throughput, small finished size and consistent performance. With screens designed specifically for single-shaft shredders, it is easy to meet the required final size of material in a single pass with just one single machine.
GEP ECOTECH Shredding Solution
GEP ECOTECH designs and manufactures a wide range of equipment for solid waste processing, including industrial shredders, crushers, screening and conveying equipment and more. GEP ECOTECH's equipment is widely used in waste volume reduction, recycling, energy utilization, harmless treatment and destruction, etc. It can process municipal solid waste, industrial waste, hazardous waste, medical waste, scrap tires, construction & demolition waste, organic waste, biomass and other substances.
View GEP ECOTECH Municipal Solid Waste Shredding Solution