GEP ECOTECH rotary shear range includes various types differing in shaft length and installed power.
The rotary shears are shredders with two rotors/shafts that can be supplied in two versions:
rotary shears with two cutting shafts, equipped with 6 grippers for tearing materials;
pre-shredder / ripper with two massive shafts designed to break the product.
Any selected model of this equipment can operate in two modes: you can switch from the rotary shear option (product tearing) to the pre-shredder option (coarse breaking) by replacing the rotors. This is the principle of hybrid assembly, which allows the customer to process various wastes.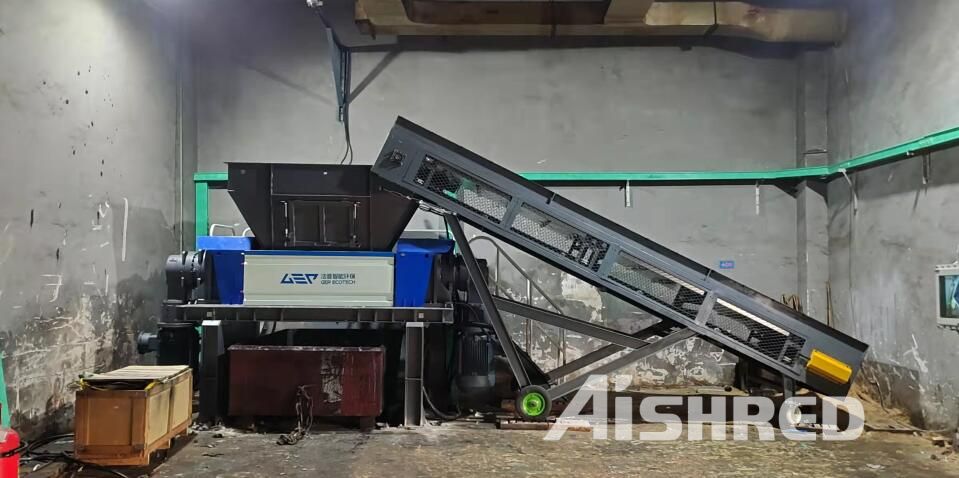 The GEP ECOTECH rotary shears are easy to maintain thanks to innovative technology: hydraulic lifting of the upper body using unique swivel walkways ensures reduced downtime for maintenance. These machines offer unsurpassed productivity and cost-effectiveness. They are ideal at the beginning of the waste recycling process, when the volume of materials needs to be significantly reduced for subsequent transportation or supply to the main processing line.
Rotary shear model GD15 can be supplied both as a stationary equipment and in a mobile version. Then they are installed in a container at the factory and come to the customer's site completely ready for work.
APPLICATIONS of rotary shear shredder
Tires for cars and trucks
Tires oversized with a diameter up to 1.8m
Large industrial waste
Electronic waste
white technique
MSW bulk
Special waste (oil filters, textiles, etc.)
ADVANTAGES of rotary shear shredder
Quick access to the cutting chamber thanks to the hydraulic system for lifting the top of the hopper.
Very reliable standard gearboxes (also used in mining equipment).
High shaft torque.
A water injection nozzle is provided in the chamber to avoid dust and reduce material friction.
Quick replacement of rotors thanks to easy connection of gearboxes and dismantling in pairs.
A special hydraulic pre-presser (option) is installed to facilitate the work with bulky and poorly crushed materials, for example, tires from trucks.