Universal Waste Shredder
Universal waste shredders are multipurpose machines for pre-processing practically all materials. They are very often used in landfills, household waste incineration facilities, co-processing facilities, RDF facilities, and recycling companies. It maybe have one, two or more shafts. The materials are shreded to a more or less defined size by means of rotary shears, shredders or cutting crushers.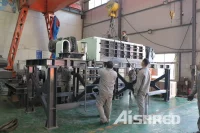 In the past 10 years, Uzbekistan's economy has developed rapidly, industry and agriculture have developed rapidly, people's living standards have generally improved, and many industrial and domestic wastes have been generated, especially in Tashkent, Samarkand, Bukhara, Namangan, etc. big city and its surroundings.Lessons from developed countries have taught people the importance of protecting the environment, and now people in Uzbekistan are looking for effective ways to dispose of the waste.…
A pre-shredder is a pre-processing machine for large waste disposal or recycling projects that uses tearing to reduce the size of the material. The pre-shredder pre-treats piles of bales or piles of waste, helping to break up the material, homogenise the feed, reduce the losses and stress on subsequent shredding equipment and balance the electrical load on the production line.
The double-shaft shredder is a universal material shredding machine that uses shearing and tearing to reduce the size of material. The main advantage of the double-shaft shear shredder comes from its low speed and high torque drive, which provides a high shear force for waste disposal applications while ensuring a low noise and low dust operating environment.