Four Shaft Shredder
The 4-shaft shreder plays a fundamental role within refrigeration treatment systems, and WEEE in general, as it allows the material to be brought to the right size for subsequent separations. The four-shaft shredder is equipped with a selection grid that allows to obtain a uniform product and is also able to treat very resistant materials such as rigid plastics and electrical cables.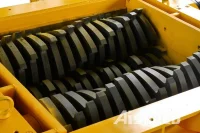 AIShred presented the new industrial shredder series at new factory in XinXiang Zhengzhou. This is the new family of 4-shaft shredders which is added to the already wide range of products.The new shredder is available in 4 versions to offer a modular choice suitable for multiple industries and needs. The various models are designed to process materials such as paper, cardboard, plastic, hospital waste, wood and post consumer products in aluminum and plastic, packaging and much more.The machine…
The four-shaft shredder is a heavy-duty shear shredding plant that provides greater shear and higher throughput. Compared to the double-shaft shear shredder, the two extra shredding shafts not only allow it to "eat" the material better, with greater shear, but also ensure a more uniform discharge. The structure of the four-shaft shredder is more complex than the double -shaft, which adds to the difficulties of repair and maintenance.